I know I come off as mean spirited when it comes to any discussion of religion and religious holidays.
I will never challenge anyone's belief in a god or higher spirit, as long as I am not required to participate in your belief, however briefly.
The Solstice is celebrated long in history and geographical space. It has spawned Hanukkah, Christmas, Ramadan, Kwanza and any number of religious holidays in Asia, aboriginal South America, Australia and sub-Saharan Africa. As kaibeth says:
And if the winter Solstice isn't the "rebirth of the sun," then what is?
Most of my adult life has been the search for opportunities to exploit for profit. Most of the time this was done for someone else, briefly for myself. I understand how money chases money and frankly I am tired of the grief it causes.
When I say grief, I am talking about the grief caused by chasing after a dollar and sometimes finding it to be just too far to grab and when the grasp of that dollar is beyond reach, it causes an anxiety borne of failure.
Money understands this greed and it keeps its expectation just so, just so that if someone jumps just high enough they can grab that dollar. Let's substitute that dollar for a child's doll, or a flat screen tv or a home just expensive enough that a mortgage is necessary to grab that dollar or whatever that dollar is meant to buy.
Money seeks opportunity. Christmas, a religious construct was turned into a money opportunity after the explosion of the middle-class post-WWII. Yes, there were gifts exchanged prior to WWII but not to the extent that began in the 1950s and has grown to what it is now.
My life has been driven by events, many of which I remember in great detail. When I was 8 or 9, my paternal grandmother died. I remember my Father gathered my Sister and Brother and explained to us that his Mother had died that previous night. My Sister started to cry and plaintively said to my Father, 'does that mean there will be no more Christmas presents'.
The impact of that statement has been with me ever since then and I guess it has colored how I see Christmas.
I find it very difficult to watch the local news around this time as the merchants put up their holiday trimmings – all the better to entice you into their stores to buy that doll or flat screen tv.
I do not remember Black Friday growing up, its true impact is recent but Black Friday dates back to circa 1952 and is regarded as the start of the Christmas season and is the Friday right after the Thanksgiving holiday. But recently it is simply the beginning of the season to grab what you can. We have a chain of stores, BestBuy, a retailer of high-tech goodies, including flat screen televisions. In less than two months from now, the local news will have a segment showing the individuals, and sometimes families, sleeping, SLEEPING in line in front of the local BestBuy store hoping to be the first in the door when the stores opens on Friday. It is little consolation that BestBuy is offering refreshment, outdoor port-a-potties to those waiting in-line for the store to open.
This is not limited to BestBuy, but every major store that advertises Black Friday sales manages to either gather a line of hopeful buyers or has crowds at the door waiting for that 8:30AM opening. There have been customers crushed to death by the hordes looking for that SPECIAL CHRISTMAS GIFT.
Bah Humbug.
I am tired of the need to grab for that dollar and I am growing in my hatred of those who dangle the dollar hoping that we jump just that little bit more to grab it.
I also believe that some amount of greed is good. But unfettered greed is deadly. We have way too much money in our society and that money needs to create ways to make more money. What will be the next target of money: Mother's Day, Father's Day, Hallowe'en, Thanksgiving – nah, those are already taken, heavily advertised with sales and promotions. All you have to do is show up and jump just that little bit higher for that pair of shoes or winter coat.
How about the Ides of March, March 15th? We'll have to manipulate our workday calendars so that the holiday falls on Friday or Monday, so we can have a three day weekend – all the more time to buy something.
Please celebrate your religious holidays. Do it quietly with your friends and family. Pray if you must; in your place of worship or at your dinner table. Bow your heads in celebration of whatever you believe – but please, leave me out of the race for money.
I miss my grandmother, but not because she wasn't there to give me a Christmas Gift, but because she put together a great and enjoyable Italian style dinner on not enough Sundays.
--------------------------------------------------------------------------------------------------------------------------
"Disobedience in the eyes of any one who has read history is man's original virtue. "—Oscar Wilde.
If you don't want a man unhappy politically, don't give him two sides to a question to worry him; give him one. Better yet, give him none. Let him forget there is such a thing as war. If the Government is inefficient, top-heavy, and tax-mad, better it is all those than that people worry over it. Peace, Montag.
Fahrenheit 451
"lifelong atheist, not afraid of burning in hell," Ron Reagan FFRF

MichaelaSJ

Moderator




Posts

: 1342


Join date

: 2018-05-19


Location

: San Jose, CA



You can enjoy Christmas and all the other festivals while despising the capitalism surrounding it. I certainly do. Every year I try to make it as magical as possible for my boys like my Christmases growing up. That's what's important to me. Same with Halloween even if the American version was imported here and has overridden the real Irish version. But we do get a public holiday for it.

I can't believe your shops are setting up for Christmas already. Here they usually wait until Halloween is over. Which is bad enough.
No argument at all.
I am actually about the same, I deliberately ignore it in myself.
"I miss my grandmother, but not because she wasn't there to give me a Christmas Gift, but because she put together a great and enjoyable Italian style dinner on not enough Sundays."
Christmas used to be "mom's Christmas baking." Then mom got sufficiently elderly it had to stop.
Then something magical happened. I became my mom (in more ways than one
).
I'm the only one in the family that inherited my mom's talents and desires to bake Christmas goodies. I've gone 3 Christmases to my brother's home in Ottawa since becoming his sister. And 3 times I have arrived carrying his beloved cherry squares that originally mom made. I'm just a spare set of hands helping my sister in law make Christmas dinner, but you can bet she likes having those hands around. A husband and 4 sons, and 2 girlfriends, and only her new sister in law helps out
Comically, her brother in law was never interested. I think she likes her sister in law better.
It ain't Christmas if there isn't a Christmas dinner. And it's lacking if there is no Christmas desserts made from mom's recipes.
Mom is frail, and no one lasts forever. I worry that when she passes, a lot of the interest in Christmas for me in Ottawa will disappear.
And this year, I will actually not be going to Ottawa at all. I'm spending it with my fiance.
It will be her first Christmas NOT with her kids and soon to be ex-wife. And that will bother her.
But it will be her first Christmas WITH her lover and fiance and future wife.
And I think that will make the difference.
I've gone without a Christmas in a way since 2014.
I've gone without a New Years, and a Valentines, and a birthday, and Easter, and Thanksgiving, and all the other holidays not normally enjoyed with a lavish meal.
It was nice that my brother rescued me to a point by bringing me to Ottawa for Christmas, but, still, my brother was able to enjoy the holiday with all the trimmings, and it actually hurt to be there in a way. The spouse, the kids, the lavish meal, the mountain of gifts.
And I show up with something homemade, and I have trouble not crying from my so obvious poverty. Last year, it was paintings. Yeah, sure, if sold, they'd have fetched way past 1000 dollars in total. But that's it, they weren't sold. And my thoughts and theirs on their worth, well opinions are just that.
I progressively came to hate Christmas, because of the money angle.
The ex-wife didn't help. Because she thought the way to her son's heart was a pile of presents.
One year when he was small, she went nuts on it (the year the PS1 arrived). And our son did what kids do, he played with a random toy that had nearly no dollar value (but he liked it). I chewed out the wife over that one. "Way to screw up Christmas dear, all that money, and he missed the value of your efforts."
My son grew up with me teaching him the value of things. Yep, I taught him the finer points of downloading. Yep, I taught him he COULD have any fucking game he wanted, and how to get them. Regardless of whether it was right or wrong. And of course, you can download anything. So I showed him how to just not need to do anything with cash to have the movies and the music, and virtually anything digital.
He was never big on brand name clothes. All he needed was a good internet connection. So we usually stuck to buying him a good computer and he was good to go.
But the ex's side of the family was awash in kiddies and kids of nieces and it usually meant a lot of gifts. I'm actually glad the patriarch of that side had trouble with me. It made my transition less of an economic burden. Because when the ex and I got separated, well, money sure became damned tight. Most of that side of the family has long since moved out of town. Life is a lot less about them.
I am unsure what Christmas is going to be for the ex this year. The son has moved out, will have his own needs for his own Christmas with his girlfriend. He might visit her. Likely will visit her. But he never really liked her side of the family much. Maybe she's finally going to get a dose of what I went through.
I don't really wish an unhappy experience on her. But, considering what she did to me in 2016.... I won't care if her Christmas is about the same. Showing up somewhere else, mostly penniless, and basically alone.
This year will be the year I get Christmas back. For me, that means Christmas dinner, Christmas baking, and family coming to see US and not the other way around. My son likely will show for a meal. I am hoping my eventual stepson and stepdaughter drop by for a meal. They're still young, but no one passes up a good meal and goodies
My fiance are hoping to NOT do the gift thing unless it isn't purchased. Not sure how we will manage that. But, it's the stated plan.
My fiance and I, 'might' retain going to church. Which will be odd, as we are basically non-Christians, largely atheists, just possessing a nature of openness about higher powers. The people at my church are all friends. I'm likely more Christian than 90% of the ones claiming to be Christians.
But yeah Miki, you ain't the only one here with a disgust with the money angle.
My love of Santa, it's the child in me.
Last year's main gift and the only one that mattered was a simple 20 dollar Barbie doll.
Yeah, I COULD have simply bought it for myself. I had the 20 bucks, more or less, sort of (I was facing a crushing dental bill at the time). But I wanted Santa to give it to me. And my Aunt Stacey decided I should have it and bought it for me. And so it arrived under the tree that morning marked "From Santa" and the little girl I am got her Barbie doll.
Christmas would be soooooo much nicer, if Christmas was more about a LOT fewer gifts, worth a LOT fewer bucks bought in a calm civil fashion.
Black Friday no longer has its hold on the market (that was the market's conclusion last year).
Today, every day is an Amazon day, and sales are today all year long opportunities.
And 9 out of 10 things I buy now, are bought on Joom (an online source out of China), where everything is stupendously cheap. My two recent wigs, 33 bucks total. Great looking, and the equal in a practical sense, to a 300 dollar wig bought locally at great cost. When a wig is worth only 15 bucks and is as good as the expensive ones, you don't need to care if it no longer the things 3 months later. It cost me half the price of a visit to the salon for a new look.
I buy my Lego from Joom, and I have 14 Barbies now so they have diminished in importance (not to mention I have run out of room for them). I have too many models. So I tend to buy my books used and hardcover casually locally, as I don't need to find them online cheap.
My fiance is a qualified, chef, and I'm told I'm incredible in the kitchen. And most calendar events to me, are reasons for a great meal, which I don't pay much for.
I'm looking forward to New Years, mainly as I am looking forward to being with someone. I'm looking forward to my first Valentines Day, mainly for not being alone on it. And I like that my birthday will not be alone as well. It's not about the money spent, to me, it's about not spending the moment alone. And I won't be.
The only thing worth any amount of money, which I plan to keep toned down, in my future, is my wedding day.
--------------------------------------------------------------------------------------------------------------------------
Hi, I'm the forum's resident brat
I find it important to point out I am indeed the first member here

Lesley Niyori




Posts

: 1114


Join date

: 2018-05-18


Age

: 60


Location

: Lindsay Ontario Canada



Well, you are forgiven Mikineezer!  
That was quite an enlightening post and I truly do understand your views. I guess you are right about all the money grabbing, coz you only have to look at the way Santa went from being Green to Red. Well, I have nothing against Coca Cola, it is a nice drink, though I rarely drink fizzy stuff, it is refreshing and tastes good. More importantly for me, I knew a man very well...… who worked for them and he told me they were a very good company to work for, there are good corporations out there, John Lewis is another...
They produced an advert way back when and coloured Santa in red and it caught on, which also happens to be a very good indicator concerning human psyche with commercial advertising.
But as a BTW, I like the Green Santa, he is much more comely and mystical in green and the cute outfits I alluded to on the other thread would be better in green coz green is my colour.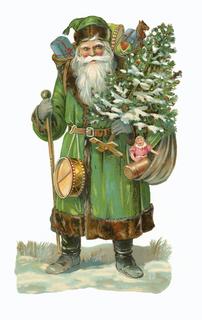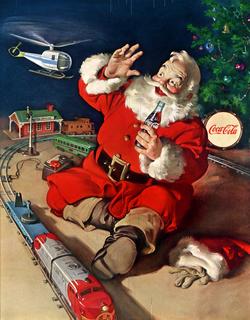 I don't mind saying that I do believe in a creator, a God. I do hold the Christian values that are extant in my life, upbringing and I probably will keep them until I die. I know I joked about Chritmas on the other thread, but I am certain that he has a sense of humour. I also do know that is most likely that God is not as I imagine or any person from other religions.
Ya see, I think that the universe is created and we are here to prove ourselves in life as being good people. I simply cannot believe that the massive, vast, cosmical universe is just simply there for nothing, you know every living thing existing in it are there for absolutely no purpose whatsoever? That to me, would be ridiculous. Did ya know there are a trillion stars for each person that has ever lived and is alive now? That's how big it is!
So I celebrate Christmas and I simply love everything about it, especially how it makes so many people very happy and I truly wish that the good, Christian or otherwise, spirit would be among us all, all year round. Celia xx
PS Sorry to jump you Lesley, we must have wrote at the same time! BTW you must be eating nice things, D'arcy being a chef and all!
--------------------------------------------------------------------------------------------------------------------------



Take chances, make mistakes. That's how you grow.
Mary Tyler Moore (1936-2017).
Re Coca Cola. Might be nice to work for, but the reality is the parent owner, is a vicious corporation that is stealing the water from third world farmers as well as clueless first world countries alike.

They is more dangerous than even the tobacco lobby and more powerful than big oil.

Just saying.
--------------------------------------------------------------------------------------------------------------------------
Hi, I'm the forum's resident brat
I find it important to point out I am indeed the first member here

Lesley Niyori




Posts

: 1114


Join date

: 2018-05-18


Age

: 60


Location

: Lindsay Ontario Canada



Thanks to both of you, Lesley and Celia for taking the time to read my post.

Celia, part of what makes you, you is that you can separate the pieces from the pile. I am glad that you have a spiritual life as it gives you a grounding others may not have.
--------------------------------------------------------------------------------------------------------------------------
"Disobedience in the eyes of any one who has read history is man's original virtue. "—Oscar Wilde.
If you don't want a man unhappy politically, don't give him two sides to a question to worry him; give him one. Better yet, give him none. Let him forget there is such a thing as war. If the Government is inefficient, top-heavy, and tax-mad, better it is all those than that people worry over it. Peace, Montag.
Fahrenheit 451
"lifelong atheist, not afraid of burning in hell," Ron Reagan FFRF

MichaelaSJ

Moderator




Posts

: 1342


Join date

: 2018-05-19


Location

: San Jose, CA



Similar topics
---
Permissions in this forum:
You
cannot
reply to topics in this forum