So, I took the trouble of putting this on in 2018 and nobody took part. Well, ya can have a go now!

No peeking at the answers from 2018. Come on give it a go.... I have to work pretty well non stop from Wednesday to Sunday morning.... give me something to do next Monday, but mark ya cards when I am up and indoors... doin little but housework.

1. Two trains. Great Aunt Celia is on the one that leaves Boston at 4pm and travels 100 miles  to New York at 50mph.... (I know that's not right, sorry, but in this it's 100 miles!).

Now the second train with Auntie Artemisia on board goes the other way. It leaves New York at 1pm, but is travelling the other direction at 33.33 recurring miles per hour for the 100 miles to Boston. So the question is.... When they meet, which train will be furthest from Boston?

……………..


2. The Great George Bush is in heaven now. When he got there, the great and good were having a sauna party with just towels on, barely covering their naughty bits only.

There were many thousands there of course, including my Great Aunt Celia. George instantly knew many people of course. But many faces he did not recognise as their true features were unknown in his time. But George knew who Adam and Eve was immediately, before even being introduced. How did he know Adam and Eve without knowing how they looked?

…...............…..

3. The police were given a tip about a jelly bean thief on the run by Great Aunt Celia. They got the info from my Aunt by bribing her with a half eaten jelly baby.

All the police knew was that he was called Peashooter Percy.

Great Aunt Celia told the police that he was playing cards, a game of Old Maid, at a known location where many Jelly Beans were being gambled upon!

When the police busted the game there were four at the card table. A Doctor, a Soldier, a Deliveryman and a Grocer. The Police arrested the Deliveryman, no questions asked.

How did they know it was the Deliveryman that was the jelly bean thief?

……...………...

4. Two men, friends of the earth and like Great Aunt Celia and my goodly self, lovers of animals, are walking together.

"You hit that Eagle very well!" The first man, Bert said. Bert then replied to the second man, Woodrow, (known as Woody to his friends), "Not as well as you hit that fine bird!" Why are these animal lovers making such comments?????

…...……………..

5. You are driving past a bus stop. There are three people at the Bus Stop. Old Great Aunt Celia, now 157 years old, she  is clearly in trouble and possibly having a heart attack. Also at the stop is your very best and most trusted friend. Thirdly at the Bus Stop is the most drop dead gorgeous buff, handsome, tall, dark, slim, athletic muscly man/woman, (delete where applicable all genders.... ok, ok!... and descriptions!)), you have ever seen and as you slow, he/she winks at you!!!

You are driving a Midget with just one passenger seat. You can only take one passenger! What on earth is the best course of action to make the best of the situation?

…...…...…………...

6. What has 4 legs in Spring, 2 legs in Summer, 3 legs in Autumn and no legs in Winter?

……………….
-
7. Oddvar II, Great Aunt Celia's second son bought an oil lamp in Tromso market. When he got home, he rubbed it and cut his fingers! He throws it down and the oil lamp squealed.... "Ouch! Ouch! Ouch!"

"Oh dear!" Oddvar exclaimed. "I'm sorry!"

"That's ok." The oil lamp said. "I was not working, but you jarred my thingy stringy bit on the whatsitcalled. Now I am working! I am very happy, you can have a wish! Anything you wnat, I say, anything you want!"

"I don't know what to wish for. Can I ask my family?"

"Yes!" The oil lamp replied succinctly.

So Oddvar went to ask his Mother Great Aunt Celia. "Mummy, dear Mummy. Pray do tell. What is the one thing you'd wish for, over all others, beloved Mater?"

"Go away ya little sod. I'm painting me toenails!"

"No Mummy. I truly wish to know. What would you wish for. Please Mama, if you should behold but one wish."

"Ya mean, apart from chuckin' out all the manky old oil lamps ya gotten piled up around your filthy bedroom?" Great Aunt Celia replied. She thought for a moment, looked up held a gaze and looked quite beautiful and stoic for a while, a glow shimmered across her chin. "I have nearly lost my sight my dearest Oddvar, I'm not long for this world my dear. But I would be most grateful to be able to see clearly again son."

Oddvar II went to his wife, Gunnhilda. "Darling, what is the one thing you'd wish for?"

"To have  a child! A boy! You are always polishing those rotten old oil lamps in bed! It's time you started polishing something else. or I'm off with the snow plough!"

"I'm sure I don't know what you mean!" Oddvar protested.

So Oddvar went to consult his Father, Oddvar I.

"Ee, so it's the Big Girl's Blouse is it?" His Father said. "What do you want, prancing around in ya tight trousers with ya fat arse hanging out, ya great moonboots and ya frilly shirt, ya great fucking Jesabel!?"

"My darling Papa. I was whimsically wondering, if you could have but just one wish, what would it be, pray tell me dear Pater."

"Money! And lots of it! Ta get away from you, ya useless pile of pig manure and ya daft Mother. Now piss off!"

"Thank you Pater. I do appreciate our sincere conversations. I'll close the door slowly."

Well Oddvar went back to the oil lamp. What did Oddvar II wish for, to placate all of his family's wants?

...……......……..
-
8. A married couple in a car. The man is driving very quickly... very very quickly and he is very tense.

He jumps out of the car and locks his wife in. He comes back with someone else. He is amazed.

There is a stranger that he has never met in the car with his wife. The car has not been broken into and the wife has not opened the doors or windows. How did this person get into the man's car?

……………….............................

9. Three baby rabbits from Thailand. Phak, Siki and Tuk. What is the Mother's name.

……...

10. Great Aunt Celia gives a book to the man behind the counter and pays him 45 øre . The man takes the book and does not raise an eyebrow or think twice as Great Aunt Celia leaves without the book. Why?

One out of ten gets a free Unicorn ride!!!!!

Celia xx Keep safe!
Last edited by Celia Eriksson on Tue Mar 31, 2020 1:01 am; edited 3 times in total
--------------------------------------------------------------------------------------------------------------------------



Take chances, make mistakes. That's how you grow.
Mary Tyler Moore (1936-2017).
I'm only going to take a crack at the Adam and Eve one for now. If all people came from two people then those two people would need the genetic information of all ethnicities in them. Look for the people who look like were the product of generations of interracial breeding, with each possible pairing only occurring once throughout their entire lineage, and you've found them.

Or you could look for the people without belly buttons since they were never attached to umbilical cords.

tiffany_elizabeth




Posts

: 56


Join date

: 2018-11-15


Age

: 41


Location

: Missouri



Belly buttons is correct!!!!  Number two is correct and crossed off the list by our Tiffany!
A free Unicorn ride for Tiffany!!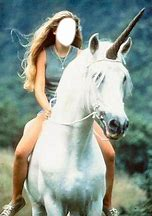 Celia xx
--------------------------------------------------------------------------------------------------------------------------



Take chances, make mistakes. That's how you grow.
Mary Tyler Moore (1936-2017).
I'll stick to physics to sound smart
--------------------------------------------------------------------------------------------------------------------------
Hi, I'm the forum's resident brat
I find it important to point out I am indeed the first member here

Lesley Niyori




Posts

: 1114


Join date

: 2018-05-18


Age

: 60


Location

: Lindsay Ontario Canada



Similar topics
---
Permissions in this forum:
You
cannot
reply to topics in this forum