Hi Everyone,
I've a little time before I go shopping.... I am in the market for a copper toaster and after much searching online, found one at a store, not too far from here. Then it's groceries.
I was reflecting where I was this time last year. Living in a small apartment, between giant reservoirs in Surrey, it was the middle of a lockdown, all my antiqueing came to a halt. Apart from exercise, the occasional 'bubble' visits too and by my dearest friend, all we could do was go to the supermarkets.....
Sometime about then, I decided to move to the sea, in the countryside. I found a place central to all my friends, that are quite far flung, from Brighton to the Cotswolds and north to Newbury Reading and of course, Surrey. Also some other things I do, in Brighton for example...
My little trailer is perfect, it has some little problems, such as plumbing and a little maintenance needs doing here and there, but I have done most of the problems I encountered. I've decorated half of it to my liking,I did show some pics of what I'd done here.
Walks by the sea are a joy. It is quite refreshing and the sea air quite wonderful, although after the first couple of weeks my lips got chapped badly, not being used to the salt air and not a wonderful sight!
The people here are friendly, quite accepting and not rude to me. Away from the little part-time job I have taken on, I have encountered one or two problems in a city ten miles away, but nothing I could not handle, it was voice both times. It is feminine, but deep. It causes people to look and inspect? much closer.... nothing new to me...
The job is fine, I will continue through until summer and then reconsider. I've not encountered any hatred, but have been asked what sex I am quite a few times.... by women.... the men generally say nothing if they dislike transgender people, they tend just to be huffy towards me. The other staff are ok and very accepting, no hint of any animosity at all. The reverse, they are very friendly.
I was assigned male changing room, I don't mind and I understand, nothing new there for me. Men using it avert their eyes and turn their backs, though it's usually empty, many go to work in their uniforms even though it's not allowed....
I use the disabled loo too, I don't like to push. They are all accepting, there is another transgender person there, though she is more gender queer and has shaven hair... we have never spoke, though she blew me a kiss one day, I think it was friendly, not sure.... she's in another ward anyway.
When my contract is up, I will not renew it again, I want to try extra work full time. I have been accepted by one agency and am on their books. I am trying to take some pro pictures, for the ones I have sent are a little amateur. I took some the other night and will post it at the end.
I am sure I have made the right decision, the move here just under a year ago was a good move. For I am very content within myself and love the countryside here, anyway, I shall go shopping now.
Celia xx
For the extras agency, a Peasant Maiden....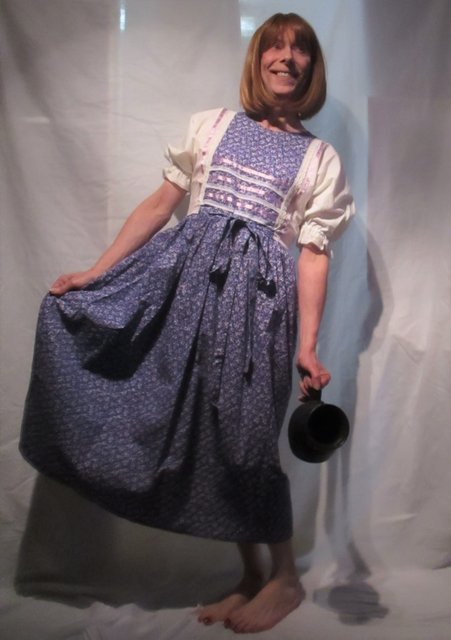 --------------------------------------------------------------------------------------------------------------------------



Take chances, make mistakes. That's how you grow.
Mary Tyler Moore (1936-2017).
luckykunai and Abhinc like this post
C,
I utterly love that photo. I apologise for the lateness of the reply. I've been so much absorbed in my life and that of my life of my wife of late. She being the boss in her lab and has so much hassle and I get the brunt of it. She cries to me so much. All I can do is reassure her. I don't exist anymore as a separate person. But isn't that the fate of some many people?

Anyway. I totally understand the move to the sea. I too have moved of late. We moved near the seaside. In fact my morning commute involves driving down the prom. Seeing the sunrise just edge over the the eastern horizon of the bay as I'm stuck in traffic is such a compensation compared to many a commuter. Another compensation is that I'm only bringing the kids to school so I head back home unless I stop and admire the view.

Living by the sea is such a blessing. I think the people who live by the sea are more tolerant.

As for the extra work. I don't know if you can make a living. It's so hit and miss. I'd get lots of work, weeks then nothing for months. It's the nature of the job, However I did get a lot of work simply because I was reliable and a known quantity. Get yourself a reputation and you're in.

But as any actor will tell you. You must fit in what they want.

G'nite now.

M

Mariehart11




Posts

: 200


Join date

: 2021-12-31



Celia, you look like a Dutch lass without her clogs. But I liiiiiike the image!
--------------------------------------------------------------------------------------------------------------------------
"Disobedience in the eyes of any one who has read history is man's original virtue. "—Oscar Wilde.
If you don't want a man unhappy politically, don't give him two sides to a question to worry him; give him one. Better yet, give him none. Let him forget there is such a thing as war. If the Government is inefficient, top-heavy, and tax-mad, better it is all those than that people worry over it. Peace, Montag.
Fahrenheit 451
"lifelong atheist, not afraid of burning in hell," Ron Reagan FFRF

MichaelaSJ

Moderator




Posts

: 1342


Join date

: 2018-05-19


Location

: San Jose, CA



i am a bit late to this tango train I guess... why does his look like disney csplay to me but if it were actual accurate to the time period.. lol. hillarious. glad you are doing well though. my depression/mood is kinda of lifting but not quit there yet. glad you are doing well.

luckykunai




Posts

: 155


Join date

: 2021-05-25



---
Permissions in this forum:
You
cannot
reply to topics in this forum